ABOUT US
WHO WE ARE
P&D Metal Works is a family owned and operated artisan metal company based in Neenah, WI. Founded in 1998 by Kim "Pooch" and Diane Pruchnofski, the company initially started with a focus on quality unique garden art. By 2004, all three of their children, John, Kirk and Teri, became involved with the company full time and have paved the way to where we are at today. Together, we've created a growing business, and multiple business units including 5 Metal Designs and RIGGUARD. Today, the company has grown to a 32,000 square foot facility. With talented artists and metalsmiths, we are able to listen to your needs and create a unique design that fits your personality. We take great pride in our work and are confident that our products will inspire the same pride in our customers' homes, businesses, and communities.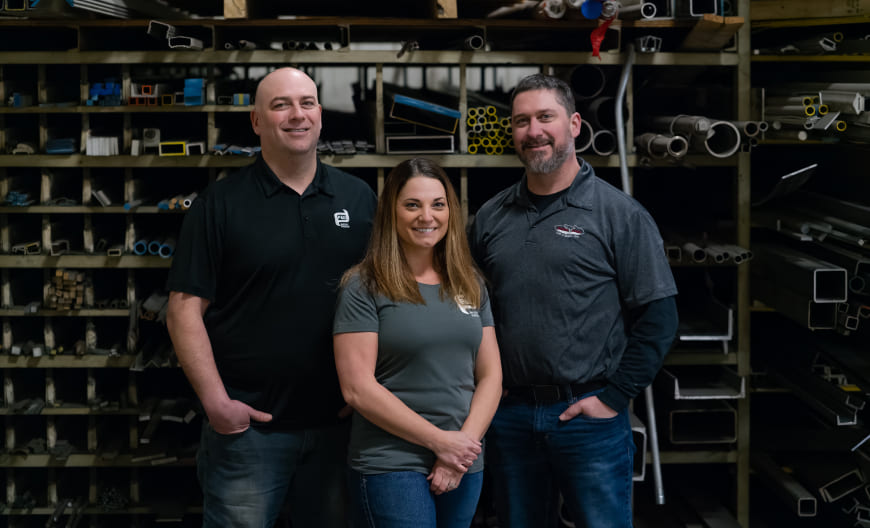 Why Choose Us
The P&D Metal works Difference

Family-Owned
Our company culture has always been about family. Since the 1990's, we've been able to maintain and elevate our metal fabricating business through the hard work and dedication of our workers, but also our family. We take pride in everything we build and manufacture. And make sure our customers feel like part of the family we are.

High Quality & Superior Materials
Top notch and high quality craftsmanship doesn't happen without our team and materials. Every piece of work we design and build is made with the highest quality metal materials; all locally sourced and produced right here in the midwest.

Custom Design Options
Are you looking for custom design options on your metal project? Whether it's a simple or complex design, we work with you to find a look and feel that not only fits your needs, but is unique to you and your project.

Unparalleled Customer Service
With an eye for detail and a commitment to perfection, we provide exceptional customer service while striving to meet all client deadlines. When it comes to creating a one-of-a-kind product, we understand the importance of collaboration and strong relationships.
What Customers Say About P&D METAL works
Couldn't ask for anything more! Thanks for a quality USA built product. Good to see pride in a product. Keep it up folks!

DEREK M.

The 60″ customized fire ring I ordered was a big hit. Had the name of the ranch on it…beautiful piece. Pay extra and the high temp paint job, trust me on this one.

BRUCE M.

I'm completely amazed at the turnaround time, customization and customer service and the truly incredible detail and quality of the product.

COURTNEY W.
Areas We Serve
Have a Need For a Custom Metal Project? contact us today!
From Oshkosh to Green Bay and beyond, we have served hundreds of clients on many different custom fabrication projects.
Ready To Get Started On Your Metal Project?
Get a Custom Quote Today!